SIOI
---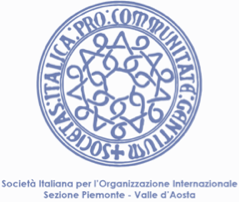 The SIOI (Italian Society for International Organization) is an international non-profit organization that has been operating since 1944 subject to the Ministry of Foreign Affairs' supervision.
SIOI's institutional aims are diplomatic and international training, gathering research and information on topics in international organization, international relations, international cooperation, and international protection of human rights.
The SIOI ment of Piemonte and Valle d'Aosta is located in Turin and carries out a number of activities aimed at encouraging discussion on subjects concerning international organizations in the area of Piedmont and Aosta Valley.
This local branch of SIOI was founded on 11 March 1947 in Turin as "Department of Turin": its first president was Gioele Solari. SIOI has counted among its members some prominent Turin citizens, such as Norberto Bobbio, who was secretary of the Society from 1949 to 1958. Since 2007 the section has also expanded its activities to the Valle D'Aosta (Aosta Valley) and changed its name into SIOI - Department of Piemonte and Valle d'Aosta.
Its office is situated in the ILO campus in Turin and it is also the base of the United Nations Depository Library n° 186.
In promotional activities in the international field, the Society carries out a wide range of collaborations with the University of Turin and the University of Valle d'Aosta.
Website (in Italian): www.sioi-msoitorino.org