Clothing & textile
---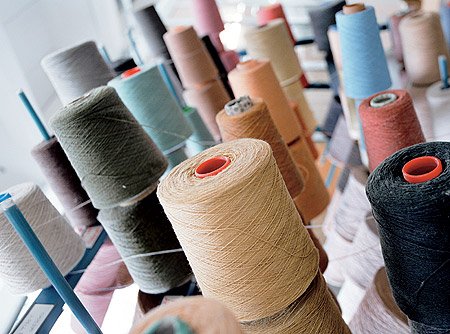 Piemonte's clothing and fashion sector (lingerie, fashion accessories, footwear, leather goods) encompasses quite a broad variety and is characterised by the presence of a number of major producers (Gruppo Zegna, Miroglio Vestebene, Loro Piana, Borsalino, Conbipel…) and many smaller businesses that have created interesting niche markets.
The region's wool tradition is concentrated primarily around Biella, Novara and in the area around Turin.
Instead, around Cuneo, you can find companies specialised in the production of corsetry and lingerie, while swimwear manufacturers are mainly concentrated around Oleggio, in the province of Novara. Clothing manufacturers are dotted all over the region, with higher concentrations of outsourcing specialists above all in the areas around production plants belonging to major companies.
Piemonte not only has a large number of companies in the rag trade, but it also produces textiles for clothing and yarns and invests considerable resources in product and process innovation.
Research is focused on innovative production processes that allow greater efficiency and, above all, the possibility of introducing new cutting-edge products aimed at a broad range of applications: fabrics with protective qualities (fire protection, hospital use, etc.) and for use in construction and leisure (driving garments, yarns that change colour, etc.). Biella's textile district is one of the largest international centres for the wool industry and the production of fabrics made from wool and other precious fibres (cashmere, alpaca, mohair). As well as worsted and carded yarns used for weaving and knitwear, the district also specialises in cotton, polyester, acrylic and nylon.
Alongside woollen mills and spinning mills, there are many combing, dyeing and finishing shops that round off this technologically advanced supply chain, focused also on protecting consumer health and the environment.
The latest technological innovations are routinely used, for example, in competitive sports and therefore materials and product improvements can make an enormous difference to the outcome, as well as ensuring a commercial edge.
Technical fabrics are increasingly used in casual wear, too, for comfort, ease of use or perhaps the desire to absorb and show off what the sport represents.
In Piemonte textile development has therefore focused on an interactive approach, combining chemistry, physics, biology and engineering, to produce fabrics capable of boosting athletic performance, but that can also be used every day.