Economy
---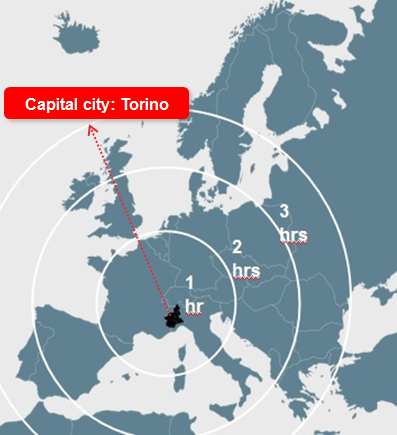 With over 4.4 million inhabitants (7.3% of the Italian population), Piemonte is among the largest regions in Europe. It is located right at Europe's most highly developed core and plays an essential role in Italy's economy. The region brings together industrial tradition, a powerful drive for research and development and is in the process of a successful productive renovation, showing the particular keenness of the territory to create a solid union as between manufacturing and innovation.
Piemonte's GDP reached € 127 billion in 2015 and is comparable to that of entire nation states. Its entrepreneurial environment includes more than 442.800 companies , i.e. 7,4% of the national total. This is an area of excellence with a versatile workforce and extremely innovative, flexible, efficient clusters, in most sectors covering the complete production cycle.
The international vocation of the region is clearly shown by its export data and degree of internationalization of its companies. In fact, as far as export is concerned, in 2016 Piemonte's sales abroad reached 44.4 bln €, i.e. 10.7% of the national total. Piemonte trade destinations cover the whole world: Europe of course is a close and "traditional" market, absorbing 57.5% of Piedmontese export, while the shares on an extra European level reached 42.5%.
On top of all this, the thrive for innovation is a distinguishing feature of the whole of Piemonte. The region can count on a unique and fully integrated R&D system that boasts Universities, private & public R&D centres, 10 Innovation Hubs, 6 incubators, 4 S&T parks and more than 104.000 enrolled students. This rich environment makes it possible for Piemonte to be the 1st Italian region in terms of private investment in R&D and 3rd for hi-tech patents.
Find out more on:
Investing in Piemonte
Making business in Piemonte