Alessandria & surroundings
---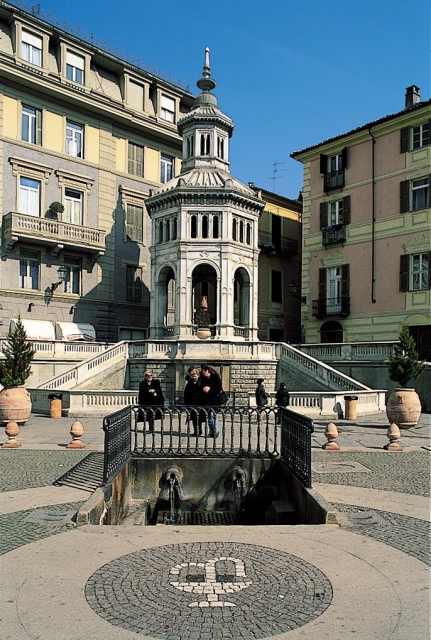 Land of wine, battles and aristocracy, with hills, mountains and plains.
This land is characterized by multifarious traditions, such as the goldsmiths in Valenza Po, a world-class centre of excellence for the craft, the spas at Acqui Terme, famed since ancient Roman times, confectionery industry in Novi Ligure and the ancient town centre of Casale, where Umberto Eco (born in Alessandria) told of a siege in his novel "The Island of the Day Before".
The area has many very interesting archaeological itineraries, from the ancient Libarna (ruins of the amphitheatre, thermal springs and the forum) to the tombs, dwellings, and Roman swimming pools carved out of rock in Acqui.
An important stop on a religious tour is at the Basilica della Madonna della Guardia, a sanctuary built in the 1930s by Father Orione, who founded his first boarding school for boys in Tortona.
Dubbed "the land of colours", Monferrato is a blaze of gold (wheat and corn fields), autumn shades and bright red (Brachetto d'Acqui and Dolcetto d'Ovada grapevines), and vibrant tones (strawberries and cherries).
Local delicacies include typical biscuits like "amaretti", "krumiri", "baci di dama" and "canestrelli", particularly in the Tortona valley. The green woods, where locals go to gather chestnuts and mushrooms, and nature reservations full of plants and animals, such as the one on the banks of the Orba stream.
If you close your eyes on the Monferrato hills and let your imagination fly, you can still hear the powerful strokes of cycling legend Fausto Coppi, who made Italians dream in the forties and fifties.
The Regional Cycling Museum in Novi Ligure honours the unforgettable local champion.