Hills
---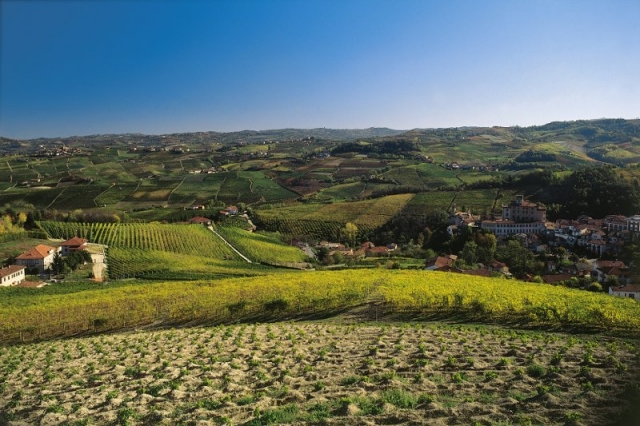 Langhe, Asti and Monferrato are the lands of Alba's white truffle, the protagonists of autumn and early winter tables with its intense flavour capable of exalting Piedmontese traditional dishes, and of great and renowned wines such as Barolo, Barbaresco and Moscato d'Asti, Barbera, Dolcetto, Brachetto d'Acqui, Gavi and Roero.
In addition to wines, another pillar of the territory is cheese: Bra, Raschera, Murazzano, Robiola di Roccaverano.
These hills are inscribed in the UNESCO World Heritage List as "The Vineyard landscape of Piedmont: Langhe-Roero and Monferrato".
The Slow Food movement was born here, Pollenzo's University of Gastronomic Sciences and the Italian Culinary Institute for Foreigners were created.
This is the land where it is possible to walk along the Wine Trails and discover the refined wine shops situated in important castles and historical palaces. Visiting local cellars, nice and cosy farmhouses, trattorias and restaurants is a must to enjoy the excellent local dishes: dozens of starters like "vitello tonnato" and raw meat salad made with the precious meat of Razza Bovina Piemontese, recognized internationally as the best cattle breed for its nutritional properties; main courses as handmade pasta like "ravioli del plin" and "tagliolini", "risotto with truffles", "bagna caoda" and "brasato al Barolo"; desserts like "marron glacé" and "zabaione", "gianduiotti", made with Piedmontese hazelnuts and chocolate. These are just some examples of the local cuisine, leader in the world also thanks to the several Piedmontese Michelin star-awarded chefs.
These great food products are also the stars of hundreds of festivals and fairs organized in the hills throughout the year.
At springtime in Alba, "Vinum" is the most important appointment dedicated to wine tourists with over 250 wine producers from Langa and Roero, Piemonte and other Italian regions; Borsa Internazionale del Turismo Enogastronomico is another important showcase for international tour operators.
"Douja d'Or" (beginning of September in Asti) is a national wine contest with hundreds of prestigious brands, concluded by the famous "Palio" (horse race) run in the central Alfieri square.
Cheese from all over the world is the protagonist of the seventh edition of "Cheese", held in Bra in September and organized by the Slow Food association every two years.
And finally, in October the International Fair of Truffle in Alba, known by gourmets all over the world and culminating with Alba's white truffle international auction.