Verbania & surroundings
---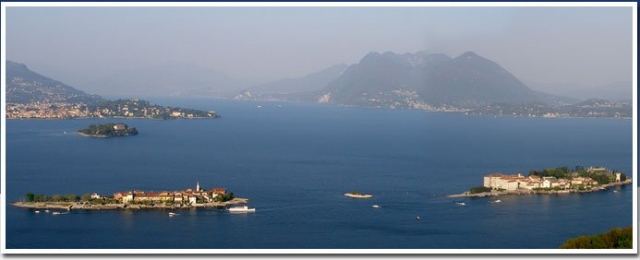 Get on a ferryboat and discover the charm of Piemonte's lakes, surrounded by magnificent gardens and elegant historical palaces.
Lake Maggiore, one of the best international tourist destinations and source of inspiration for writers and poets such as Dickens, Stendhal, Flaubert and Hemingway, with its Borromean islands (Isola Bella, Isola dei Pescatori and Isola Madre) and the beautiful towns of Verbania, Baveno, Stresa and Arona.
Lake Orta with the island of San Giulio and the 11th century monastery; Mergozzo Lake and the adventurous emotions recalled by the rocky holms of Cannero, in a quiet piece of land.
Cannero Riviera was also awarded the European Blue Flag 2009 by the Foundation for Environmental Education for the quality of its water, clean beaches, efficient services and accommodation facilities.
Not far from the lakes, the natural parks of Val Grande, Veglia Devero, Mottarone and Lagoni di Mercurago, Toce's waterfall in the uncontaminated Formazza Valley, Mount Rosa and the hundreds of hiking and mountain bike trails, as well as wild streams for canoeing and kayak.
Genuine taste lovers can find rarities such as the Vigezzo Valley's smoked ham, Ossola Valley's mortadella, mountain pasture cheese Bettelmatt and the great DOCG wines, made with Nebbiolo grapes, Ghemme and Gattinara.
In spring and summer the blossoming parks and gardens are real explosions of colours and beauty.
Take a walk along the Flower Trails in guided tours along the Road of Camellias on Isola Madre, unique in the world for its varieties, or the Road of Rhododendrons which at Villa San Remigio can reach huge dimensions. At Villa Taranto, in a park of 16 hectares, the gardens present 20,000 plants of botanical relevance and over 15,000 border plants. Twenty hectares of flowery paths, age-old trees and a wonderful botanic garden are the attractions of Villa Pallavicino, with 40 species of mammals and exotic birds living wild. And then the Alpinia Botanic Garden, with a surface of 40,000 sq metres and one thousand botanic species set in a stunning landscape, overlooking a spectacular view of Lake Maggiore, the Borromean Islands and the surrounding mountains.
Lake Maggiore shores are home to some of the best congress facilities in Piemonte, with 113 meeting rooms and a total of 11,100 seats, over 3,000 sq m of exhibition area and around 1,700 rooms, including 239 in 5-star hotels.
In addition to professional services and cutting-edge technology for business meetings and conferences, visitors can spend their spare time in the six golf clubs overlooking the lake and the several wellness centres.
For an unforgettable experience, take a dip in the hot water outdoor tub at Premia's spa, in Antigorio Valley, surrounded by snow.