Vegetables, fruits and truffles
---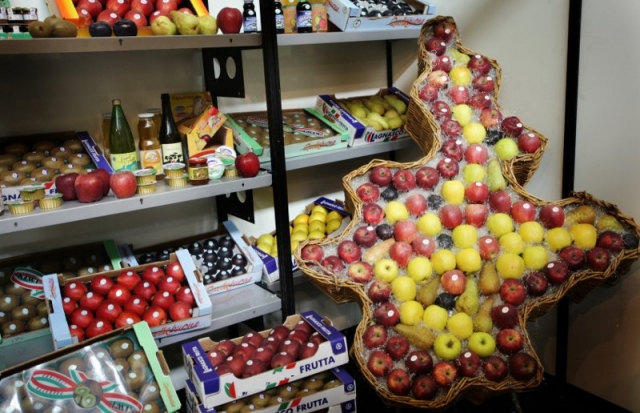 The region's exceptional panorama of food products also features some prized traditional vegetables, cultivated on its fertile plains: the square pepper of Motta di Costigliole d'Asti, or the hornshaped variety of Carmagnola, leeks from Cervere, onions from Ivrea, asparagus from Santena, and the round cardoon of Nizza Monferrato: just a few of the vegetables traditionally served for dipping into bagna caôda, a hot sauce made of garlic, anchovies and oil, which represents the most traditional Piemonte antipasto. Saclà, Ponti and Galfré are among the most well-known producers in this field, to which we should also add the production of spreads and sauces (for pasta, meat, vegetables or simple bread), condiments, vinegars, quite widespread in the region.
Furthermore, with 33,500 hectars of orchards Piemonte is one of the largest producers and exporters of fruits in Italy. In particular the province of Cuneo is a famous producer of apples, strawberries, peaches, pears, kiwi, chestnuts and hazelnuts. The variety of hazelnuts produced in Piemonte is particularly famous and with peculiar organoleptic features that make it specially suitable for the use in the confectionary and chocolate production.
And then there is the real "king" of regional gastronomy: the white truffle, that rare prized fruit of a land which also conceals underground treasures. This little "tuber", worth more than its weight in gold, is found above all in the area around Alba, in the famed Langhe district, world renowned for its wines, but truffles can also be found in all the hilly areas of the region. A sprinkling of tiny slivers over tajarin pasta or even just fried eggs, releases the truly unique aroma.
The famous white "tartufo d'Alba", is a status symbol today, considering that the average price is 4.000 Euro per kilo. From year to year, the myth has established itself especially thanks to Giacomo Morra, a relevant personality of Alba, who invented the "truffle fair" 73 years ago. Morra was an important forerunner in terms of time and customs and he was the first one who felt the importance of the modern "testimonial".
In fact he started the tradition of giving the best truffle of the year as a present to renowned politicians, sportsmen or artists. Eisenhower, Kennedy, Churchill, Queen Elizabeth, Rita Hayworth, Alfred Hitchcock and Marilyn Monroe are just some personalities who could enhance their dishes with the popular truffle flakes. The tradition has been kept up until now. Reagan, Gorbaciov, Pavarotti, the Pope have received and appreciated the white truffle of Alba.