The Truffle Fairs
---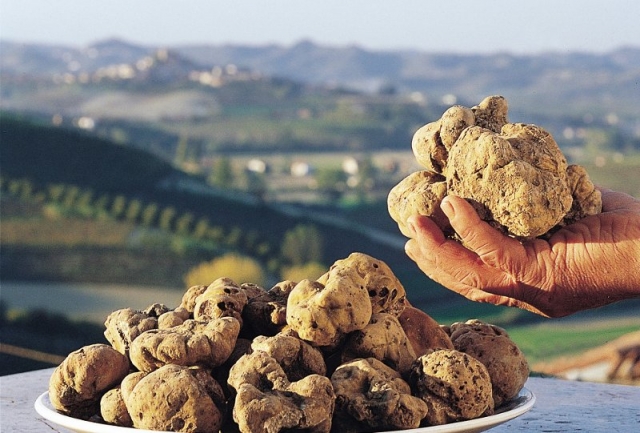 Gioacchino Rossini called it the "Mozart of the mushrooms" and Byron kept one on his desk to nourish his imagination.
The ancient Romans believed it to be the legendary son of lightning.
Truffles remains a black and white mystery, the noblest of the mushrooms, the most fragrant of the night fruits, the true king of Piemonte gastronomy.
As rare as it is aromatic, this secret gem is able to rouse a gold rush every year – and not only metaphorically given its high monetary value.

The key truffles events are:
International White Truffle Fair in Alba (Cuneo)
This is the leading truffle fair that features the White Truffle of Alba. In October and November, the city streets fill up with stalls. The heart of the event is the truffle market set up a courtyard where truffle searcher sell their goods.
Website: www.fieradeltartufo.org
Regional Truffle Fair in Asti
Perhaps not as famous as the Alba fair, this fair in San Secondo square every October is second to none. Truffles are tasted and purchased.
Truffle Fair in Acqui Terme (Alessandria)
This is one of the more interesting truffle fairs in eastern Piemonte, held the third Sunday of November for tasting, eating, drinking and buying.
World White Truffle Auction in Grinzane Cavour (Cuneo)
It may not be the most representative happening but it is surely the most glamorous. A charity auction is held every November, in the Castle that was the ancient residence of Count Camillo Benso. The event is seen even in the United States through a satellite link and Hollywood stars, like Robert De Niro and Sharon Stone, bid for the largest truffles.
Website: www.castellogrinzane.com